We recently talked with Alan Chan to learn more about his experience in the current class of fellows. Alan shares about the struggles of moving to a new city and finding a community of Christians focused on loving their neighbors and creating good work.
DIFW: Who are you? What do you do?
AC: Alan Chan. I work with Arrow Electronics as the VP of Legal Affairs.
DIFW: What drew you to the fellowship in the first place?
AC: When I first moved to Colorado from New York in 2016, I didn't know anything about Denver. I was offered a promotion that I wasn't planning to take, but when the New York offices closed, I was forced to move. I truly felt that God was leading me here. Once in Colorado, everything was disorienting to me from how I related to people to how I understood people, especially in my work. When I heard about the 5280 Fellowship, I realized that it lined up well with the "business as mission" studies and learnings from Urbana I've done in the past, which interested me, and it gave me a structure to work through some of these issues.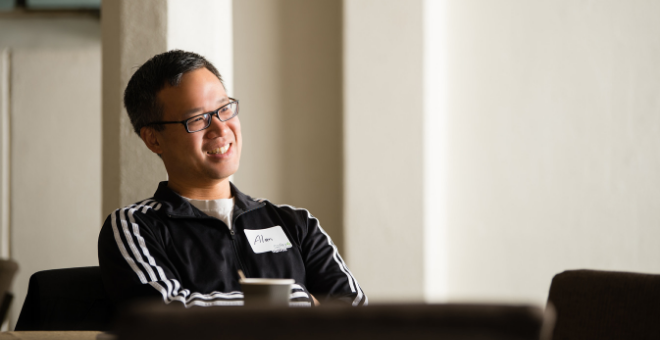 DIFW: How has the 5280 Fellowship helped with what you were looking for?
AC: The 5280 Fellowship has been huge in what I was looking for in the program. It's helped me focus on what I already had a general sense for, after being in the workforce for 19 years. When I moved to Colorado, I was taking a more visible leadership role in my company with an opportunity to shape department culture.  The 5280 Fellowship helped me to focus a general sense into a specific sense of what God might be using me to do in my current position. Not only that, but my professional project in the 5280 Fellowship fell at the perfect moment to address an unexpected challenge with our team culture when we rehired and rebuilt our entire team here in Colorado. The 5280 Fellowship is such a high quality program, and it's added value to things I've already heard before in the faith and work conversation. It's added theology to the bits and pieces I've gathered over time, as well as a framework to organize it all in one place.
DIFW: What's been the biggest surprise or unexpected byproduct of the Fellowship? What have you enjoyed the most that you didn't anticipate?
AC: I was surprised by and greatly enjoy the wide range of ages in the 5280 Fellowship. There are quite a few younger people than myself, and it's been surprising to have relationships with people that make me feel like I'm in my 20's again. It's encouraging to see people that are very serious about what they want to do and very serious about their faith. I'm enjoying interacting with people in different industries and different journeys that can provide a perspective through another set of eyes.
DIFW: Why would you encourage someone to consider the 5280 Fellowship?
AC: The 5280 Fellowship is an excellent, high quality program. If someone is looking for intellectual stimulation, as well as a thoughtful approach to faith and work, the 5280 Fellowship is for them. Not only that, but the 5280 Fellowship provides a community of like-minded people who are thinking in this same way and struggling with the same issues. It's nice to feel like you're not alone in trying to integrate your faith and work. The 5280 Fellowship is for people that feel a dissonance with their faith in work and want to process that with others to help resolve some of that conflict.
Learn more about the 5280 Fellowship, join us at an info session, or considering applying for the 2019–2020 class of fellows! (Applications due April 30th.)