5280 FELLOWSHIP OVERVIEW
FIND YOUR MISSION IN
GOD'S REDEMPTIVE STORY
MANY CHRISTIANS FACE DOUBTS AND DISCOURAGEMENT IN THEIR WORK
Many Christians face doubts and discouragement in their work at some point in their lives. We feel a sense of purposelessness related to Christ's Kingdom and our part in it. We may feel ignored for doing "secular" work by our communities of faith. We often struggle to connect with other Christians in our workplaces and industries. And many of us lead fragmented, busy, and overwhelmed lives.
The 5280 Fellowship helps Christian professionals serve God, their neighbors, and society through their work. Over the course of this 9-month program, participants gain new friendships, a clarified sense of calling, and a greater connection with God at–and through–their work.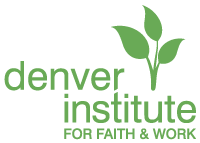 The 5280 Fellowship is the flagship program of Denver Institute for Faith & Work, an educational nonprofit dedicated to forming men and women to serve God, neighbor, and society through their work. It is our goal to form a community of working professionals who think theologically about their work and culture, embrace one another in redemptive relationships, create good work across industries, seek deep spiritual health, and serve others sacrificially in their workplaces and cities.
By the end of the 5280 Fellowship, Fellows will gain:
A greater sense of self-awareness;
The framework to see work as a place of worship, formation, and mission;
A broadened theology around the gospel, the church, and her mission;
Spiritual disciplines to implement beyond the Fellowship; and
Connections to key cultural and civic issues through 20+ leaders across industries.
WHO IS THE 5280 FELLOWSHIP FOR?
"My cohort included an accountant, an architect, a marketing specialist, an entrepreneur, an engineer, and a few people in finance whose jobs I don't understand at all. It's heartening to meet with people who care deeply about their work and think carefully about bringing the gospel to their world."
Rachel Moran
Former Teaching Fellow
Criminal Defense Clinic
University of Denver Sturm College of Law
DISCUSS FOUNDATIONAL TEXTS IN THEOLOGY, CULTURE, AND WORK
Fellows gather regularly in a church-based cohort to discuss foundational texts in theology, culture, and work. Each cohort is facilitated by a pastor or local faith and work practitioner. Discussions give Fellows a deeper understanding of biblical worldview and mission, the role of Christians in culture, personal calling, and theology of work. Fellows also meet for three weekend retreats during the year focused on themes of calling, spiritual formation, and community, and five Saturday teaching sessions which will combine lectures and personal stories on theology, culture and work from both theologians and marketplace leaders. Review the Fellowship Dates and Details for a full calendar of activities.
LEARN FROM CITY LEADERS
During Saturday sessions and after-work "Community & Culture Gatherings," Fellows learn from city leaders across a variety of industries about key issues on the Front Range. Fellows see the city's key institutions and issues through the eyes of leaders, develop a broad exposure to current challenges, and build informal networks with leaders through honest, off-the-record conversations.
MAKE AN IMPACT THROUGH YOUR WORK
"The 5280 Fellowship has been a great exercise in making me think about what I do in my working life that can actually have an impact that correlates directly with something I see deficient in a spiritual context."
Joel Hughes
5280 Fellowship Alumnus
APPLY WHAT YOU LEARN
As a part of the curriculum, Fellows apply what they learn through two projects. First, each Fellow creates a Personal Formation Plan that identifies a growth need and practices to develop in that need (character traits, interpersonal skills, emotional intelligence, etc.) Second, each Fellow designs and executes a Professional Project to address a practical need within his/her organization, community, or profession. Fellowship staff and cohort discussions assist Fellows in the design and implementation of both projects.
Fellows will also be guided through an executive coaching process intended to reveal strengths, weaknesses, unique skills and aspects of their personal story that contribute to their vocational endeavors.